Hon. Miles Keegan
HASSAYAMPA PRECINCT | Phone Number: (602) 372-2000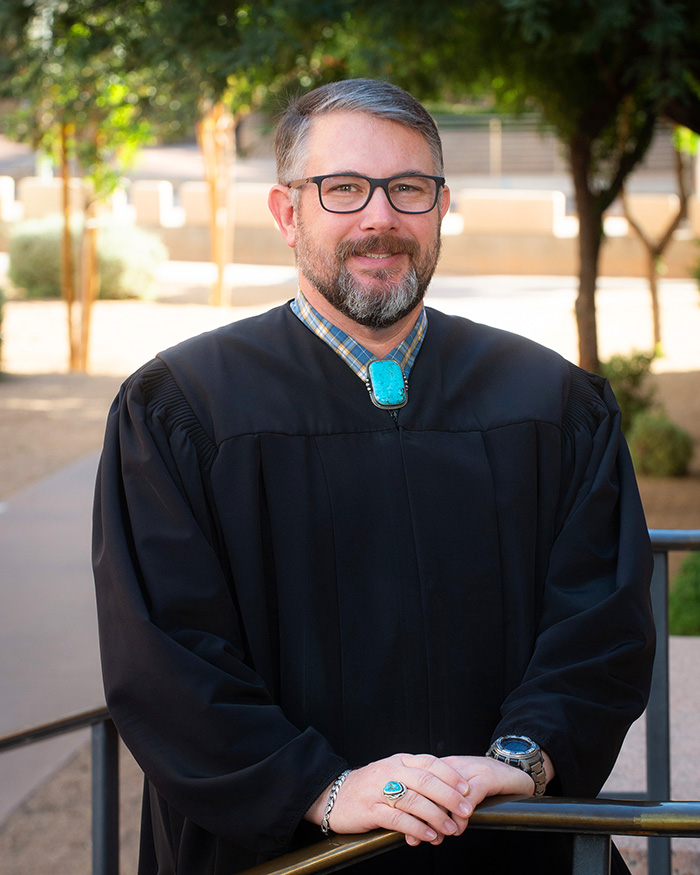 Judge Miles Keegan has been the Justice of the Peace for the Hassayampa Justice Court since 2014. Previously he served as the elected Constable for the Hassayampa Precinct. Before that, he was an Operations Watch Chief for the Department of Emergency and Military Affairs working in the Joint Security and Operations Center.
Judge Keegan spent nine years in the U.S. Army in both the reserves and active duty, with service and training in Armor, Artillery, and Military Intelligence. His fondest time in the military was as a Paratrooper and Forward Observer, spotting for the Field Artillery in the famed 82nd Airborne Division.
Keegan is active in the Justice Courts, serving on committees and taking a leadership role with a goal of continual improvement. Under Judge Keegan's stewardship, the Hassayampa Justice Court was one of two test courts for new Small Claims rules- implementing new procedures and evaluating their effectiveness. A year later, after many meetings, discussions, planning sessions, and revisions the new rules for Small Claims are now in place. This has greatly improved the Small Claims process for the courts and all litigants. He has been active with the Veterans StandUp and Glendale Stand Down for Veterans events, using his free time to resolve outstanding cases for those who have served this country. Judge Keegan is also involved in mentoring new judges in their initial months of training. Keegan currently sits on the Professional Standards Committee for the Maricopa County Justice Courts.
"As always it is my promise to you that as your Justice of the Peace I will execute the duties in a manner befitting of our great justice system. It is your trust that I must earn every day by being unbiased and mindful to the community I serve, as well as the law, and the individuals before the court."
Judge Keegan is a 5th generation Arizona with strong roots in the West Valley. His family has been active in Arizona since its territorial days. His great-great grandfather was a member of the Arizona Constitutional Convention and is a signatory of the Arizona Constitution. His family has mined copper, farmed cotton, worked in education, worked in government, and served in the military, for more than 100 years. Each generation works for the continued betterment of this great state.
Judge Keegan has also been active with scouting. As a youth, he worked through the ranks to earn his Eagle Scout. He has previously been a Cub Scout Pack Committee Chair and Chair of the Lake Pleasant District Eagle Scout Board of Review for the Boy Scouts of America.